Pumpkin Caribbean Soup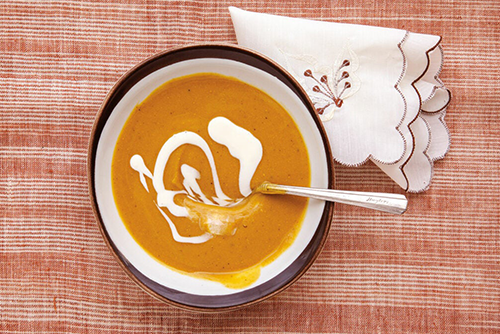 Ingredients
3 tbsp. unsalted butter
4 cloves garlic, minced
1 medium white onion, minced
1 Scotch bonnet pepper, stemmed, seeded, and minced (optional)
3 lb. pumpkin, such as calabaza or butternut squash, peeled, seeded, and cut into 1/2″ pieces
4 cups chicken stock
4 sprigs thyme
2 sprigs parsley
1 bay leaf
1 cup milk
1⁄4 cup heavy cream
1⁄2 tbsp. mild curry powder
1 tsp. fresh lime juice
1⁄4 tsp. freshly grated nutmeg
Salt and freshly ground black pepper, to taste
Crème fraîche, for garnish
Instructions
Melt butter in a 6-qt. saucepan over medium-high heat. Add garlic, onion, and, if using, Scotch bonnet; cook until golden, about 8 minutes. Add pumpkin, stock, thyme, parsley, and bay leaf; bring to a boil. Reduce heat to medium; cook until pumpkin is very tender, 30–35 minutes. Discard thyme, parsley, and bay leaf; working in batches, purée soup in a blender until smooth. Return soup to saucepan and add milk, cream, curry powder, lime juice, nutmeg, salt, and pepper; simmer until slightly thick, 4–6 minutes. Ladle soup into bowls; garnish with a swirl of crème fraîche.
Mushroom Wellington with Creamy Carrot Sauce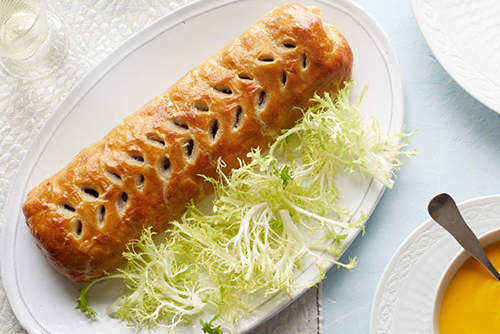 Ingredients
4 large Portobello mushrooms
2 tablespoons olive oil
1 tablespoon unsalted butter
1 shallot, thinly sliced
Salt and freshly ground black pepper
8 ounces shiitake mushrooms, stems removed and caps thinly sliced
2 teaspoons fresh thyme leaves (from 2 large sprigs)
1/2 cup dry white wine
2 tablespoons plain breadcrumbs
1 sheet frozen puff pastry (from a tk-ounce package), thawed
Almond  flour, for dusting
2 teaspoons Dijon mustard
1 large egg, beaten
Large-flake sea salt, such as Maldon
Carrot Sauce:
3 medium carrots, cut into 1-inch pieces
2 cloves garlic, smashed
1 bay leaf
Salt
1 ounce cream cheese
1 teaspoon red wine vinegar
Directions
For the Wellington: Remove the stems and gills of the Portobello mushrooms, and discard. Cut each mushroom cap in half, then cut the halves into 1/4-inch-thick slices.

Heat the oil and butter in a large skillet over medium heat. Add the shallots, and cook, stirring frequently, until soft, 2 to 3 minutes. Add the Portobello slices, 1/4 teaspoon salt and a few grinds pepper, and cook, stirring frequently, until the mushrooms have started to soften and wilt, about 4 minutes. Add the shiitakes, thyme, 1/4 teaspoon salt and a few grinds of pepper, and cook, stirring frequently, until the shiitakes have started to soften and wilt, about 3 minutes. Pour in the wine, bring to a simmer and stir until most of the liquid has evaporated, 2 to 3 minutes. Remove from the heat, and let cool completely. Stir in 1 tablespoon of the breadcrumbs. Taste and adjust the seasoning.

Position an oven rack in the center of the oven, and preheat to 400 degrees F. Roll the puff pastry out on a floured sheet of parchment paper to a 13-inch square. Brush the surface of the pastry with the mustard, and sprinkle with the remaining 1 tablespoon breadcrumbs.

Leaving a 1-inch border on the right and left sides of the pastry, pile the mushroom filling onto the center, and pack it into a log about 3 inches wide. Fold the bottom half of the pastry over the filling, then roll it up so the bundle sits seam-side down. If any filling falls out while rolling, just push it back inside. Pinch together the open ends to seal, and crimp with a fork. The log should be about 12 inches long. Transfer the Wellington, on the parchment, to a baking sheet. Brush generously all over with the egg. Cut decorative slits down the length of the Wellington. Sprinkle with sea salt and pepper. Bake until golden brown and bubbly, 40 to 45 minutes. Let rest for a few minutes.

For the carrot sauce: While the Wellington is baking, combine 2 cups water, carrots, garlic, bay leaf and 1/2 teaspoon salt in a small saucepan. Bring to a high simmer, and cook until the carrots are very tender, 10 to 12 minutes. Remove the bay leaf, and transfer all the liquid and solids to a blender. Blend until completely smooth. Add the cream cheese, vinegar and 1/2 teaspoon salt and blend until smooth again. (The sauce can be made, cooled and refrigerated up to 1 day ahead; reheat before serving.) Transfer the sauce to a serving vessel.
Coconut Brownie Bites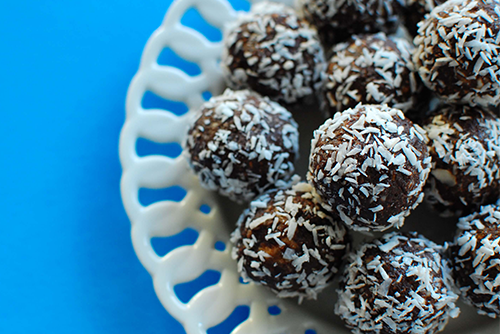 Ingredients
1 cup almonds
1/4 cup cocoa powder
1/2 cup unsweetened coconut flakes, divided
1 cup pitted dates, soaked and drained
1.5 tbsp coconut oil, melted
1 tbsp raw honey
Directions
Combine the almonds, cocoa powder, and 1/4 cup of the shredded coconut together in a food processor. Process into a fine powder.

Add the soaked dates, coconut oil, and honey. Pulse until dough-like consistency forms.

Roll batter into small bite-sized balls. Then roll each ball through a bowl with the remaining coconut flakes to coat. Organize on a fancy plate and voila! Betcha can't eat just one. 
If you try this recipe, be sure to tag me on Instagram with @drrozjackson! I'll feature my favs.