Procedure At A Glance
Duration of Results
1 year
Treatment Recovery
2-3 days
Risks & Complications
Low
Medically Qualified
Medical Doctor
Pricing
Accutite, Single Treatment
A Highly Effective Skin Tightening Treatment
Precision targeting of small areas of unwanted, hard to get rid of fat
You might notice small pockets of excess fat on your face or body—but how can you possibly target some of those areas with exercise? Answer: it's almost impossible. Before you give up entirely, however, it's important to know that Total Health & Wellness has a non-surgical solution for fat removal and skin tightening that will boost your confidence.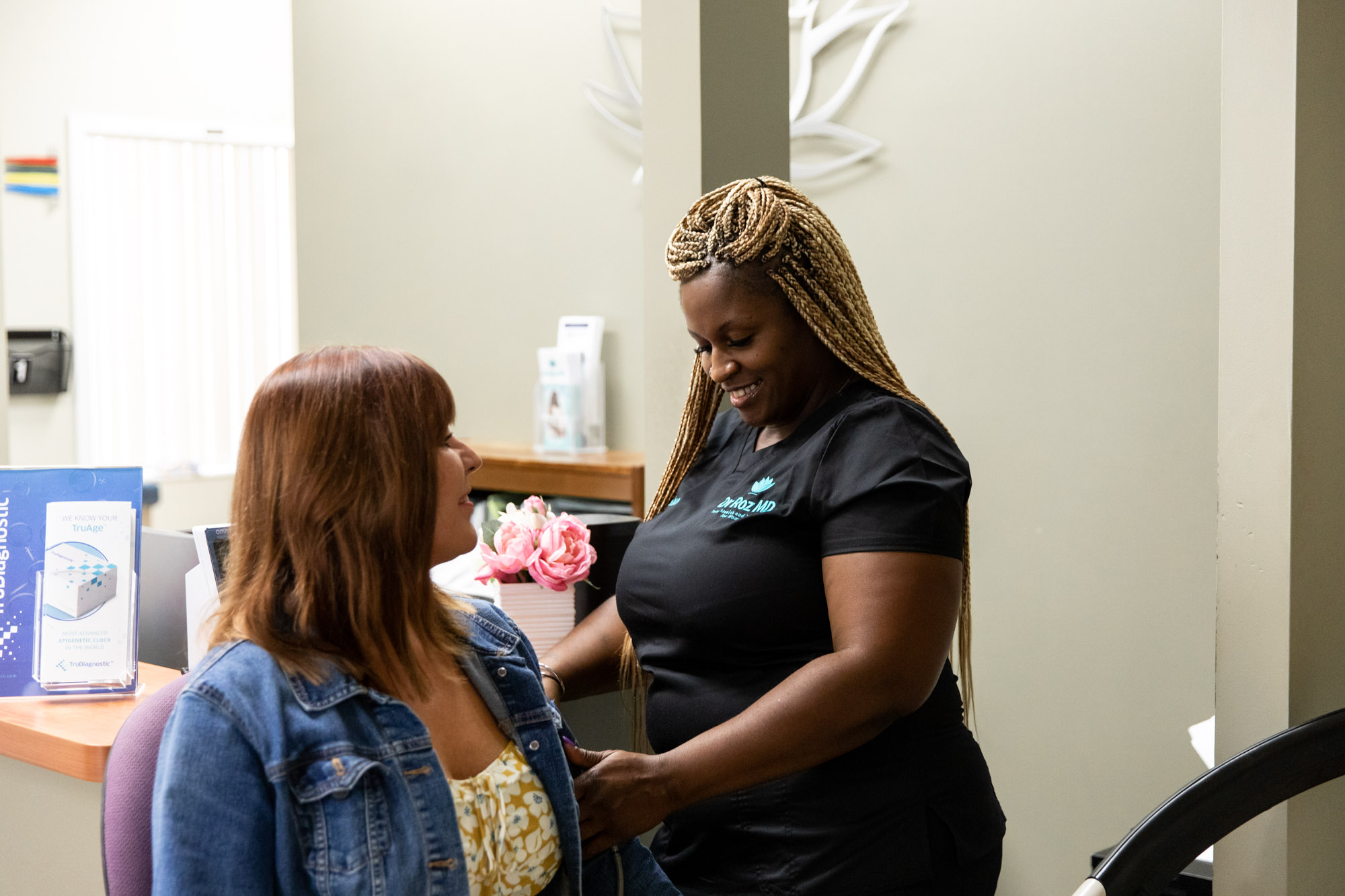 AccuTite Overview
What AccuTite Skin Tightening Treats
AccuTite melts fat and tightens the skin for a beautiful, slimmer finish.
If you're interested in a tighter, more youthful and contoured look, but don't want to go under the knife for invasive surgery, you're a great candidate for AccuTite skin tightening treatment in Dayton! Some of the most common areas we treat with AccuTite include:
Brows
Upper & lower eyelids
Nasolabial folds, or laugh lines
Lower face
Neck
Bra fat
Upper arms
Abdomen
Hands
Knees
Thigh
How it works
Learn more about how skin tightening works and how it can help you look and feel your best.
AccuTite is a fat melting and skin tightening treatment that uses the most advanced Radiofrequency-Assisted Liposuction (RFAL) technology available to provide dramatic results with little downtime and without the risks associated with surgery.
The powerful device delivers radiofrequency (RF) energy to the skin and fat to liquify the fat, tighten the skin, and contour around the now slimmer area.
The gentle heat delivered by the device also encourages new collagen to form to give you plump, smooth skin long-term.
Results
Learn more about what to expect when you undergo an AccuTite treatment.
AccuTite treats small areas of unwanted fat and leaves behind tightened, beautiful skin with a more flattering contour.
Following an AccuTite skin tightening treatment at our Miamisburg, Ohio office, we recommend 2 to 3 days of downtime to recover. You may feel mildly sore or have some bruising in the treated area(s) for up to 10 days. Though you may begin noticing results within the first week after treatment, final results will become more apparent to you after 6 weeks and may continue to improve for up to a year!
About Total Health and Wellness
Total Health and Wellness was founded to provide women with real answers to their most pressing problems.
Learn more about Total Health and how our team of medical experts can help you feel your best.
Whether you're searching for a caring, dedicated OB/GYN; want to feel like your most beautiful self; or are hunting for a solution to your menopause symptoms, Rosalind Jackson, MD and her educated staff are committed to helping every woman who visits our Dayton office live her healthiest, happiest life.
Is this treatment right for me?
Use our Virtual Consultation Tool to tell us more about your concerns. From there, we will provide you with customized recommendations on which treatment may be the best fit to address them!