Procedure At A Glance
Best Results
Ongoing Treatments
Duration of Results
1-2 years
Treatment Recovery
24-48 Hours
Risks & Complications
Low
Anesthetic
Topical / Local
Medically Qualified
Certified Nurse Practitioner or MD
Juvéderm Treatments
Find relief from signs of aging with our dermal fillers in Dayton, Ohio.
Reversing physical aging has never been easier. Not only do we use the latest product from Juvéderm to deliver surface-level results, but we also work to optimize hormone and nutrition wellness to further address the signs of aging.
Juvederm Filler Overview
What Juvéderm Treats
Every woman should feel confident in how they look and feel. 
Do you ever look in the mirror and wish you could wave a magic wand and get rid of an unwanted appearance? We consider all contributors to aging skin, do a complete assessment, and come up with a personalized plan. That plan may include filler, laser therapy, and hormone management. Whichever plan we put into place, we will do our best to ensure that you are happy with the results.
If you're searching for dermal fillers in Dayton, Ohio, or the Dayton metro, our team of experts can help.
How it works
Learn more about how this effective anti-aging treatment works. 
Hyaluronic acid is the key ingredient in dermal fillers; this natural substance gives volume to the face and is the key ingredient in Juvéderm products.
With aging comes a decline in collagen and shrinkage in body structure, resulting in sagging cheeks, hollow cheeks, a thin jawline, and lip thinning. Juvéderm safely boosts collagen production, giving you the full, youthful appearance you miss.
About Total Health and Wellness
Total Health and Wellness was founded to provide women with real answers to their most pressing problems.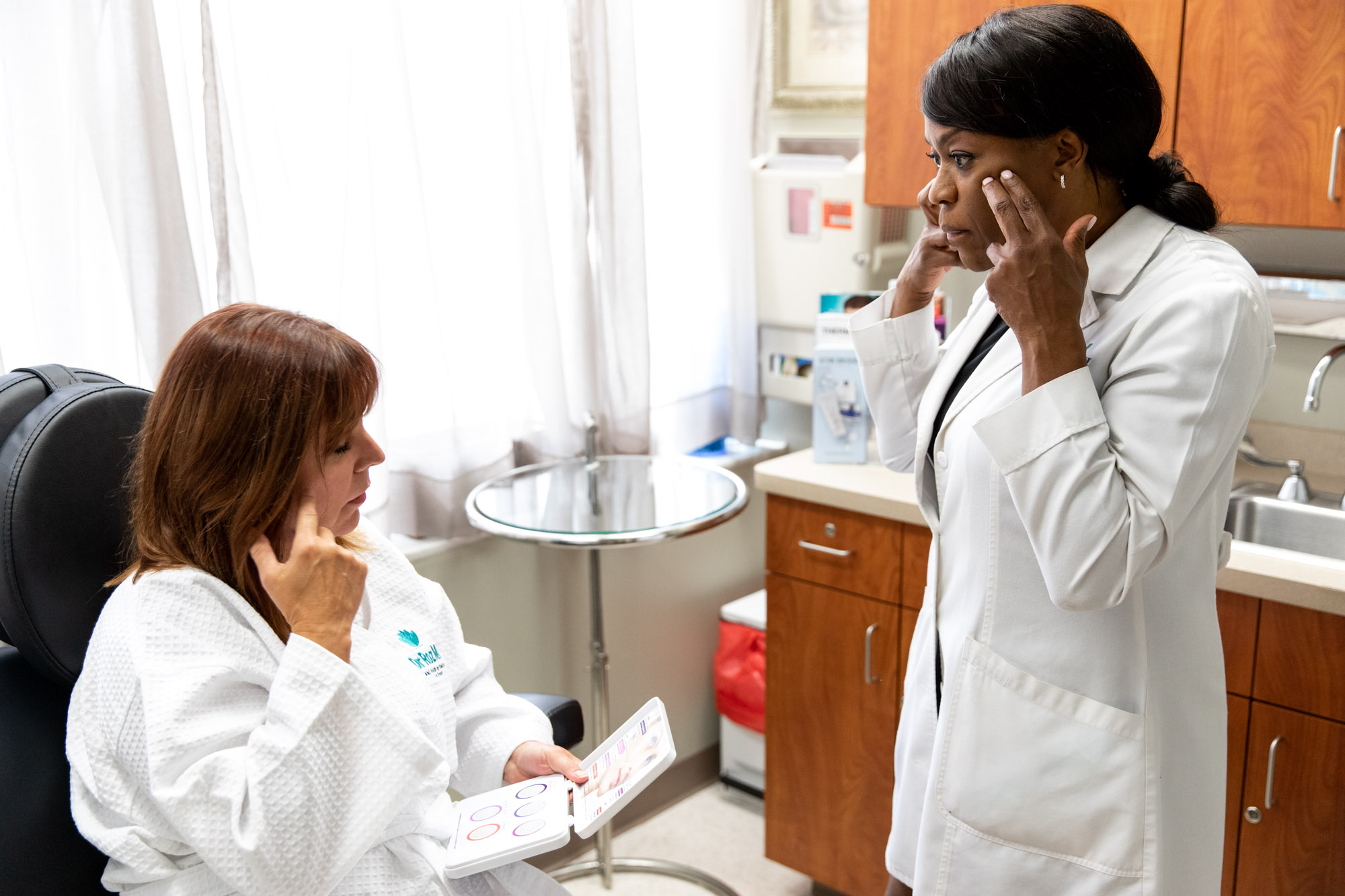 Learn more about Total Health and how our team of medical experts can help you feel your best.
Whether you're searching for a caring, dedicated OB/GYN; want to feel like your most beautiful self; or are hunting for a solution to your menopause symptoms, Rosalind Jackson, MD and her educated staff are committed to helping every woman who visits our Dayton office live her healthiest, happiest life.
Is this treatment right for me?
Use our Virtual Consultation Tool to tell us more about your concerns. From there, we will provide you with customized recommendations on which treatment may be the best fit to address them!